Terri – "AfroSeries Review", The Project by NaijaTab Platform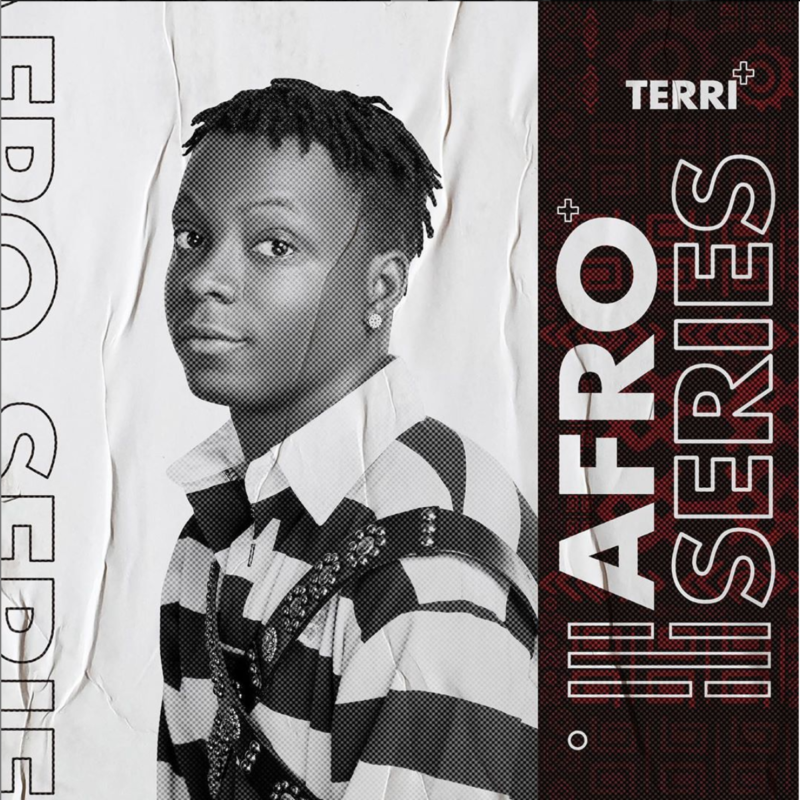 Artiste: Terri
EP: "Afroseries"
Tracks: 7
Duration: 2omins, 32secs
REVIEW OF TERRI's EP "AFROSERIES"
Stepping out into the glory of his own light, adhering to the standard of the times, showing courage not to feature any artist on this project is impressive and the effort by Terri on Afro Series is a step that turn Boyz To Men….
TERRI's story to fame and spotlight is one that is graced with courage and growth, from putting out covers of song on social media to getting noticed by Africa's own Star Boy, Wizkid and to even holding it down on one of the biggest songs of the last decade "Soco". This Star Boy Nation's protege is pushing through to becoming his own…
Although young Terri has garnered much love and criticism ever since his breakout on Star Boy single "Soco", his similarity in style with Wizkid has made many wonder if he would be able to step out of his mentor's shadow … And time and time again he kept up the pace on every single he released or featured in from Non-Stop, Bia, One Me, to his feature on Kana which were all promising but failed to make impact as expected. From that, you would have to understand why this EP was highly anticipated by both fans and critics alike.
For every body of work done by a musician or Artist there has to be a focus concept and that is one aspect Terri shone in on this EP .. The title, "Afro Series" is sonically captured on this project with a cut edge interpolation of Afrobeat mixed with Galala, Pop, Jazz and even R&B fused into a tight sequence flowing in-depth and pitched on world standards like contemporary albums from Burna Boy and Wizkid …
The 7 track EP opened with a song called "Wake Up". The killertunez beat started mellowed with couplet strings over a saxophone thrill swelling lushly on the entire track, giving Terri a good landing space to tell the story of his trek into stardom, his gratitude to God and a little of braggadocios just to let the listeners catch the vibes of his new status. For example, the lyrics; 'Omo shey you see / many girls I see for free'. On the second verse, you can even get to hear his 2 face influence ..
The next track is called "My Chest"; A love song detailing his passionate affection for a girl. (which according to Terri, was picked by himself)… The track sounds more like an Afro- highlife record because it infused percussions with a lot of guitar strings which could be heard towards the end as Iambeatz did an incredible job by sequencing a play of guitar tricks into the record.
The same Iambeatz produced the third track called "Balance"; a jazzy Afrobeat song which is about his infatuation for a woman. And just when you think he is done talking about relationships, the next track "Ojoro" had him stressing his desires even more. The Sarz-produced track is the leading single off the EP and one that stood out because of the fusion of Galala, styled with pop & Afro. The beat tempo is more fast-paced than the previous records and quite catchy too. The lyrics; "What doesn't kill a man only makes am stronger, things you do me girl only make me Stronger, like kokoko, your booty like Kokoko, if you give me a chance i like be your man, I go take you down/, I go buy you silver and gold gold gold, cos na you be the kokoko", showed his prowess in captivating his fans to sing along… It was not the way he sang those words that made it special but the charisma and energy he brought into it which is reminiscent of his verse in "Soco". This makes the Sarz-produced track a possible banger. Maybe, Lol…
The Iambeatz "Doo" is a stellar track, an Afro fusion R&B like-song which in my opinion is the lowest moment in the project.. And maybe it should have stayed as the last song on the EP but not so much for replay value… The next song produced by Tuzibeat is an Afrocentric jazzy- infused record called "Ode", A song with a similar rhythm with Wizkid's "Ojuelegba" .. Nostalgic right?. Yes I thought so .. this one is about the street and it encourages the everyday hustler to keep the fire burning with lyrics like; "Let no one tell you how to live your life / steady hustle live your life" …. And imagine this cut being scratched into a mix after Wizkid Ojuelegba by a DJ. O boi e too make sense.
And Terri closes the EP with the track; "Kill Man" produced by Blaise Beatz, The track is about flexing and catching trips with a girl. It has a trippy and jazzy backdrop which is danceable .. I think the ladies will enjoy this one..why not? Well there are other good groovy songs in there but this is a nice way to end an EP in style ..
Terri could have attained a more special and unique "Afro Series" but fell short of expectation. He could have made a lot of difference if he had exerted the same energy and charisma he used in Ojoro into other records. However, with over 4 million streams in the first week for Ojoro, Terri has proved that he is a force to reckon with.
Written/Composed by Naijatab platform
Twitter/IG : Boy_blogger
At first, we thought he would pull a "Wizkid" on us, a man who seems to say the truth about everything except release dates (Starboy we are still waiting for "Made In Lagos") but he stayed true to his word with the release of his highly anticipated debut EP "Afroseries" on the 1st of May, 2020.
The 7-track Ep was produced by Blaise beatz, Iam Beatz, Killertunez, and Sarz. It is a solo performed project giving the singer an opportunity to showcase his talent and sound. In this writer's opinion, This is a project that is long due and should have been out sooner and earlier than now.
The EP begins with the Killertunes produced afrobeat track "Wake Up" where the young star looks back at his journey to the music scene. He sings about being a regular boy on the streets to someone touring the world based on his own terms. He also made sure to drop a message for his haters/bad belles clearly stating that he had the best verse on "Soco" (did he lie though?)
The first track on a project is important because it makes or breaks the EP, sometimes it propels the listener to go on listening to other tracks. Putting this track as the first was a good idea. For an artiste like Terri, a song like this is important. Fans would definitely relate to this.
'My Chest' is a love story. It speaks about the early stages of infatuation in a relationship. Terri simply wants to be more than friends with his love interest. Produced by IamBeatz, the song is a tune filled with guitars and trumpets playing in the background.
'On Balance', Terri gives the definition of a superwoman. He sings about loving and wanting a woman in sonorous vocals similar to that of a mixture of Wizkid and Burna Boy with a dash of Fela. One unique thing about this IamBeatz produced track is that the singer sings confidently and rides the beat like a pro. It reminds us of a younger Wizkid. The instrumental of this track alone is a hit and magical. The Sax and other instruments used were perfect and the mixing is top-notch.
"Ojoro" is a fan favorite and this is not because it was released as the leading single but because it's a fusion of afrobeat and Konto and Terri Killed it. "Ojoro" means Cheating/foul play and as the title depicts, Terri begs his woman not to cheat on him. Sarz certainly outdid himself on this track.
It appears Terri is a lover boy as "Doo" is another declaration of love and on it, we get to envy Terri's superb songwriting. Terri continues to be confident and sings like he's been in the industry for a long long time. We can't help but notice that the hook of this "RnB soul track is killa and catchy "What does it mean to you? Cause e mean the whole to me My baby doo doo doo Doo, doo, doo, yeah, yeah".
"Ode" is a highly spiritual track heavily influenced by Fela Musical aesthetic. Terri understands that no matter what he does people would always talk. He advises that one should "Chop life" because tomorrow isn't sure. At a point in the track, it felt like he got so immersed in the track that he forgot what to say. You could say he completely lost in the track.
As stated earlier, the first track of a body of work is crucial and this applies to this track "Kill Man" but sadly, this track was just vibes alone and didn't meet up to finish the EP on a good note. No doubt the track has a nice instrumental but we could barely hear Terri, he was almost inaudible at a point and he struggled with lyrics too.
The Verdict
There are some albums/EPs that won't sit well with you upon first listen but after a while, it warms a way into your heart and you wonder why you hated it initially. "Afroseries" is a project you would love after listening to it several times. Again, this might not be the same for other people who might click with his sound immediately (we absorb music differently). This might be due to the fact that it's similar to that of Wizkid which music fans are always accustomed to.
We insisted in an earlier article that for him to make a huge comeback to the music scene, he has to make sure every sound, lyric and beat on the EP comes out well and differently from Wizzy because this project would be a determinant of how his career would progress even if he decides to leave the label in the future. There are so many singers that sound like Wizkid these days but Terri seems to be only one that has gotten it right. Yes, being under Wizkid is an added advantage but we can't take away the fact that he took his lessons seriously.
Terri is evolving, it is evident that during his hiatus, he was able to work on his sound because it's way better than what we heard on "Soco" and the rest of his tracks. It is even more evident than his next project would be a better one.
However, this writer feels that this wasn't enough to make a strong mark. Although Terri did not deviate from giving his fans the Afrobeat feel with a superb production, he didn't bring anything new to the table. Revamping Wizkid's style to something else would have been a much better experiment because it sounds like "Soundman Volume 2". The only difference is it's not Wizkid.
We can't be too hard on Terri though because it's his first project and to call a spade a spade, it definitely wasn't boring even though there was no featured artiste. He was able to grab the attention of many by doing it on his own. We have to give him his flowers. He only needs to improve on his songwriting, focus on bringing whole new energy and vibe, and we're sure that Terri might even be bigger than his boss if he re-strategies.