Lil Frosh Girlfriend, Gift Reacts As Singer Denies Domestic Violence Allegations Again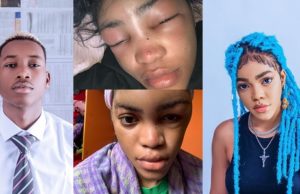 Lil Frosh's girlfriend, Gift has reacted to his recent denial over the domestic violence allegations leveled against him.
Lil Frosh in an interview debunked her claims and explained his own side of the story. According to him, he would never do such to his girlfriend. Lil Frosh revealed that she called him after noticing a boil at the back of her ear and they probably thought it was an allergic reaction. He revealed that she continuously sent him pictures of the ear as it progressed. Frosh said he still loves her despite the allegations leveled against him.
Reacting to the interview, she took to her Instagram story to express her disgust over his denial." Narcissists and lies, 5 and 6. I'm really disgusted". In another post, she wrote: " Not today, not this week, maybe not even this year but one day…one day your mask will fall and they will see the monster I had to face alone. They will know I wasn't lying, there really was a demon behind that angelic face. They will know."
See the posts below: