Yemi Alade – Deceive Video ft. Rudeboy & Funke Akindele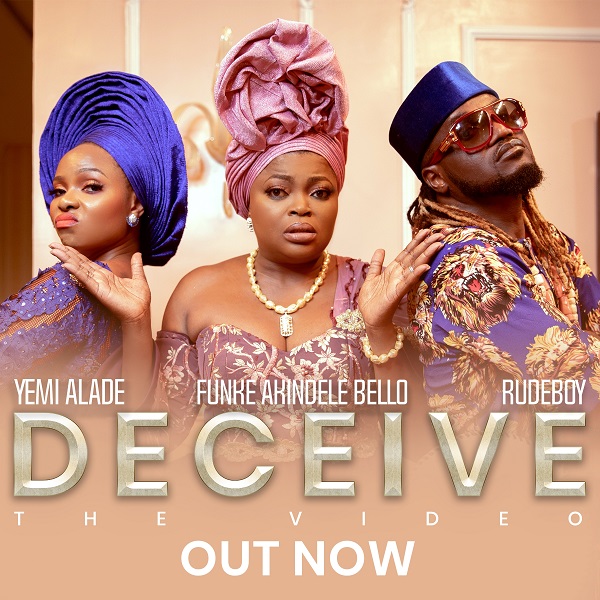 Effyzzie Music Group presents the official video for the track "Deceive" by Yemi Alade featuring Rudeboy, Starring Nigerian Actress – Funke Akindele… Directed by Clarence Peters.
Lifted off her acclaimed fifth studio album "Empress", Yemi Alade unpacks the music video for Rudeboy aided "Deceive".
STREAM/DOWNLOAD YEMI ALADE – EMPRESS ALBUM
The clip for the Jimmy Huru, Vtek, and Egar Boi produced afro-pop duet stars Funke Akindele and is directed by Clarence Peters.
Watch below!
GET AUDIO
Deceive Lyrics
Make you take your time o
You want to deceive me
No dey waste my time o
I dey look your eyes o
You want to play me for a fool
No dey waste my time o
Only God can judge
You want to deceive me
You wan play with my heart
You don see me finish
Only God can judge o
You want to deceive me
You wan break my heart, oh yeah yeah
You dey pongololo baby
I dey talk to you
Make you answer di dambanana baby, oh yeah
Come take your ngwo ngwo baby
I dey watch you
So make you dey gogwololo baby, oh yeah yeah
Carry your ngwo ngwo
Baby kolololo
Carry your ngwo ngwo
I be dey take my time o
Na your fault baby
Everyday na fight o, yeah yeah
No be say I be bank o
But you no want to reason
You no dey wait make a land o
Oh no no
Na only God can judge
And I no wan deceive you
I no go break your heart
You don see me finish
Only God can judge o
You want to deceive me
You wan break my heart, oh yeah yeah
You dey pongololo baby
I dey talk to you
Make you answer di dambanana baby, oh yeah
Come take your ngwo ngwo baby
I dey watch you
So make you dey gogwololo baby, oh yeah yeah
Carry your ngwo ngwo
Baby kolololo
Carry your ngwo ngwo
Far away from me, far away from me (far away from me)
I no gon fi forget what you did to me
Pon sina (ah yeah)